Truth in the Tinsel
is an e-book written by
Amanda White
. It is an Advent E-Book Experience for Little Hands and it is about knowing and loving Jesus through the holiday season. I am so EXCITED for this! The planning is done for you and done in such a way that is well thought out and meaningful to the real reason for the season!
Buy Truth in the Tinsel now!
This ebook
will lead you and your children on your own experience through the Christmas Story. You'll take a few minutes each day in reading the Christmas Story directly from the Bible, making a fun ornament craft and talking about it together.
On
Black Friday only it will be $2.99 and regular price is $4.99
. You guys...that is an AWESOME deal! Amanda had done all of the work! She has the plans laid out, materials needed, directions, bible verse, you name it. It will help you and your children learn about Jesus and the Christmas Story. The best part is if you've already created your own advent calendar of some sort...add this to it! I can't wait to post pictures of what we are going to be doing here at the Laughlin house.
Each day has five parts to help you have fun in a quick and easy way teach your child about the Christmas Story. It includes the overall supply list (as well as the daily supply list) to help you with your shopping for the ornaments and I'm almost 95% sure you'll have most of it around the house! Templates are included as well. I LOVE LOVE LOVE how Amanda included pictures of what to do for each ornament and how to make it. Each day contains the "read it together" bible verse; "make it together" ornament; "talk about it" paragraph; and "do more together" extension to really help your child understand the bible verse and make a real life connection.
Click here to get your own E-book copy
for your family...for a friend....for your grand-kids or your nieces or nephews. This could also be used as a great activity with youth groups or children's church.
Click here to "like"
them on facebook
Amanda is going to challenge everyone to "give" our kids the first 24 days of December by doing the book together & joining the
Truth in the Tinsel Facebook
page. We will be encouraging each other every day during Advent (by posting pics of the craft you did, funny things your kids said while doing the activity, etc.).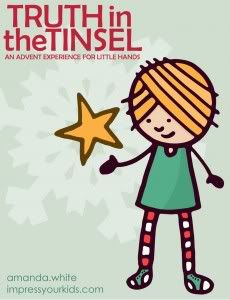 This post has an affiliate link. Thanks for supporting my blog and this fantastic e-book!
I received a free e-book copy of
Truth in the Tinsel
to review and post my thoughts, which are all my own. :)